The Didsbury String Quartet is the world's leading String Quartet specialising in the Eurovision Song Contest. In May 2023, when Liverpool played host city to the Eurovision Song Contest, we saw an opportunity to share our love of the music of Eurovision with the public. Over the course of the Eurovision week, we performed at four different venues across Liverpool. We were delighted to perform at Oh Me Oh My, the Museum of Liverpool, Tate Liverpool, and the prestigious Liverpool Town Hall.
On Thursday 11th May 2023 we performed a lunchtime concert at the beautiful Liverpool Town Hall titled Didsbury String Quartet Plays Eurovision! and you can read (and watch) a little about it below.
Our concert idea was thought up by DSQ Manager David Hornberger in early 2023. Combining his love of Eurovision with his experience of running a string quartet was the easy part, however David realised he was going to need to bring in some extra Eurovision magic to help pull off a really successful concert. This help came in the form of good friend Stephen Gould. Stephen's knowledge of the Eurovision Song Contest is unparalleled and what's more impressive is his ability to leave out bias. Well, mostly!
Crafting a perfect programme was no easy task. Sure, we could have just chosen the most streamed Eurovision songs of all time, however we wanted to create something a bit more special for our audience; after all, it's not every year the United Kingdom gets to host the Eurovision Song Contest!
David and Stephen had regular meetings leading up to May 2023, workshopping ideas of what would create a balanced programme of things an audience would want to hear, whilst delivering something that would not be entirely predictable. If we could have skipped ahead to just after the concert had finished we would have realised that an audience of Eurovision fans is one of the most grateful audiences to exist and we needn't have had such heated debates on what songs we should or shouldn't include!
Born without the gift of hindsight we carried on drafting our concert until finally we had decided on all the songs we wanted to include and, more importantly, how our brain-cum-compère Stephen would link it all together. Once you start going down a road of Eurovision research one realises that actually an afternoon concert isn't quite going to be enough to satisfy all the great Ethnic Bops, Ballads and Schlager Eurovision has bestowed upon us. We had a problem on our hands; either we were to convince Liverpool Town Hall to let us host a 24-hour concert marathon or we cram some (seventeen) of our chosen songs into two medleys to avoid a mass culling.
We'd done it! Somehow we had turned sixty-seven years of Eurovision into a list of thirty-eight songs for a lunchtime concert. There really was something for everyone. On the morning of the concert we had our final rehearsal at Liverpool Town Hall and, while we were leaving to get some lunch, a gentleman was looking at our poster outside. We spoke to him and he was considering coming to watch – he just happened to be passing the Town Hall when he noticed the poster – and he said, "just tell me, are you going to be playing Ne Partez Pas Sans Moi?". David replied "if you buy a ticket you won't be disappointed…". Of course it was on the list!
Fed and watered it was time to don our shiny Eurovision inspired jackets and dig deep through Eurovision history with our instruments guided by our wonderful compère Stephen. The audience at our concert still fills our heart with warmth. Liverpool Town Hall was full of smiley, excited faces and the Eurovision love was strong. The Mayor of Liverpool kindly welcomed us before disappearing and then we were left to it. It's quite funny when you think about it.
Now, whilst we didn't want the concert to be entirely predictable, we did have to honour some Eurovision traditions. So we walked on stage, performed the European Broadcasting Union's Anthem and then Stephen began… "Good evening Europe!". Regrettably we did not get the concert professionally recorded, however we did stick an old camera at the back of the room so without further ado I present to you some videos from Didsbury String Quartet Plays Eurovision!
---
Concert Flyer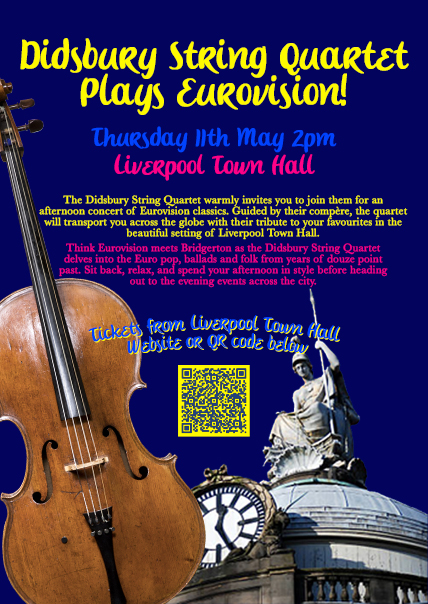 ---
Programme Information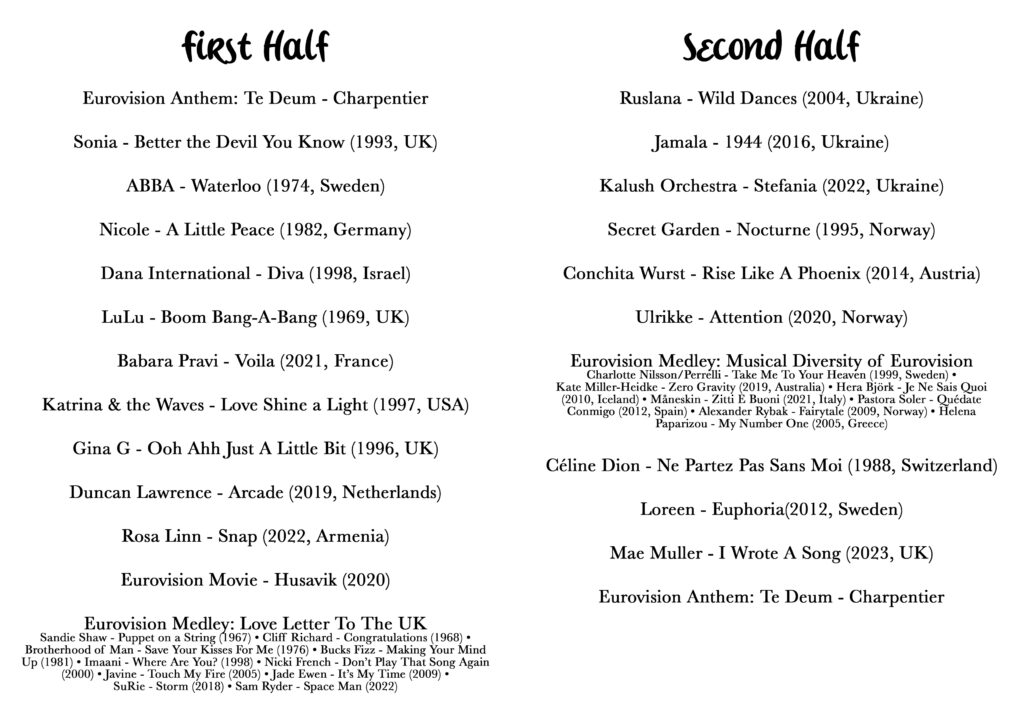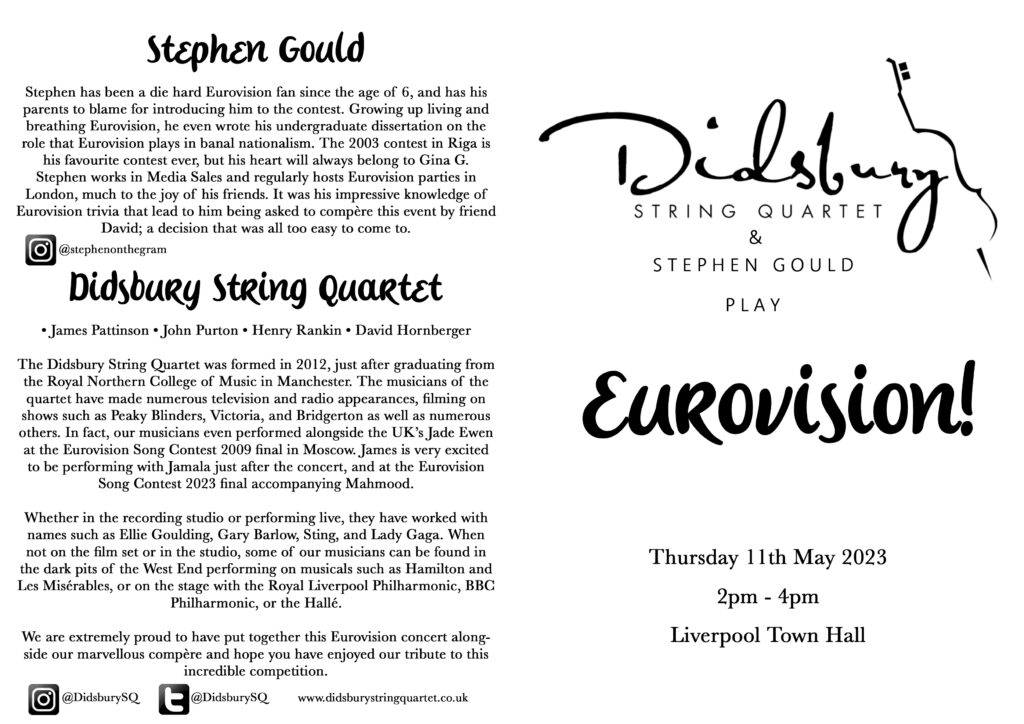 ---
---
---
---
---
---
---
---
---
---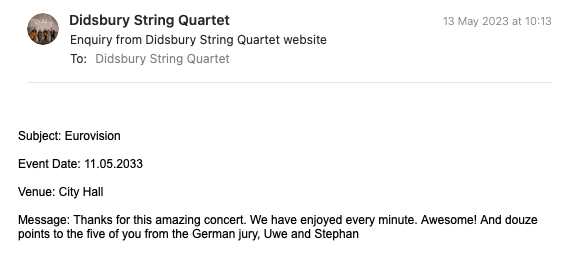 ---